SADIE
-
Sterling and Decimal Invoicing
Electronically
SADIE was a programmable computer with a limited
instruction set, with programs hard-wired into the machine.
Aside from a wire delay line, there was no memory in the
machine.
SADIE was designed to automate the
production of sales invoices. For the
operator it appeared to act as a combination
of a typewriter and a calculator, but looked
like a normal office typewriter. The operator
would manually type the invoice header
with details of the customer, delivery
address, invoice number and date as normal.
Each line of the invoice body would then be
typed by the operator moving from one column to
another across the page using the tab key.
The
operator would enter the line number, the
product description, the unit sales price and
any applicable discount.
When tabbing to the last column in the line, the device
would calculate the total line value, taking into account the number sold, the
unit price and the discount level.
At the end of the invoice, the operator would
instruct the device, using a push button, to print the total invoice value.
Previously many of the small business users of SADIE would
have completed these operations in individual stages, often
being carried out by different people. The invoice would be
part-typed, then passed to a clerk who would calculate the line
value, then the figures would go back to the typist to complete
the invoice.
Importantly, SADIE could be switched between Sterling and
Decimal – a point made strongly in the advertising for the
product as the machine was launched just prior to the UK
switch to decimal currency.
SADIE was a relatively inexpensive machine that changed
what was a complex and error-prone task into one that could
be completed by a typist who did not possess particular
accounting skills. It provided an instant return on investment
for its users and was very popular.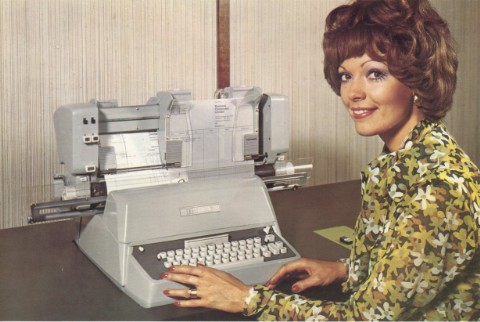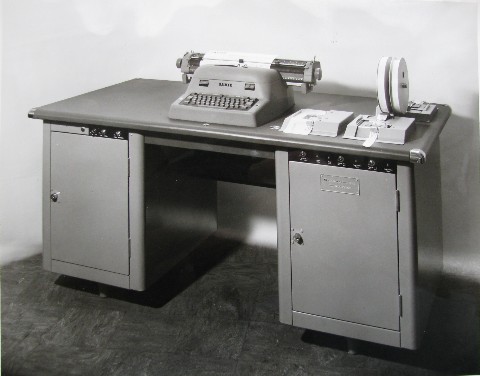 SADIE with a paper tape station
By recording all the invoices generated using SADIE on to paper tape, the tape would then be forwarded to a bureau for processing and the production of customer statements. I wonder how many customers actually did this?
Systemation Stand at BEE, Olympia in 1963 showing SADIE